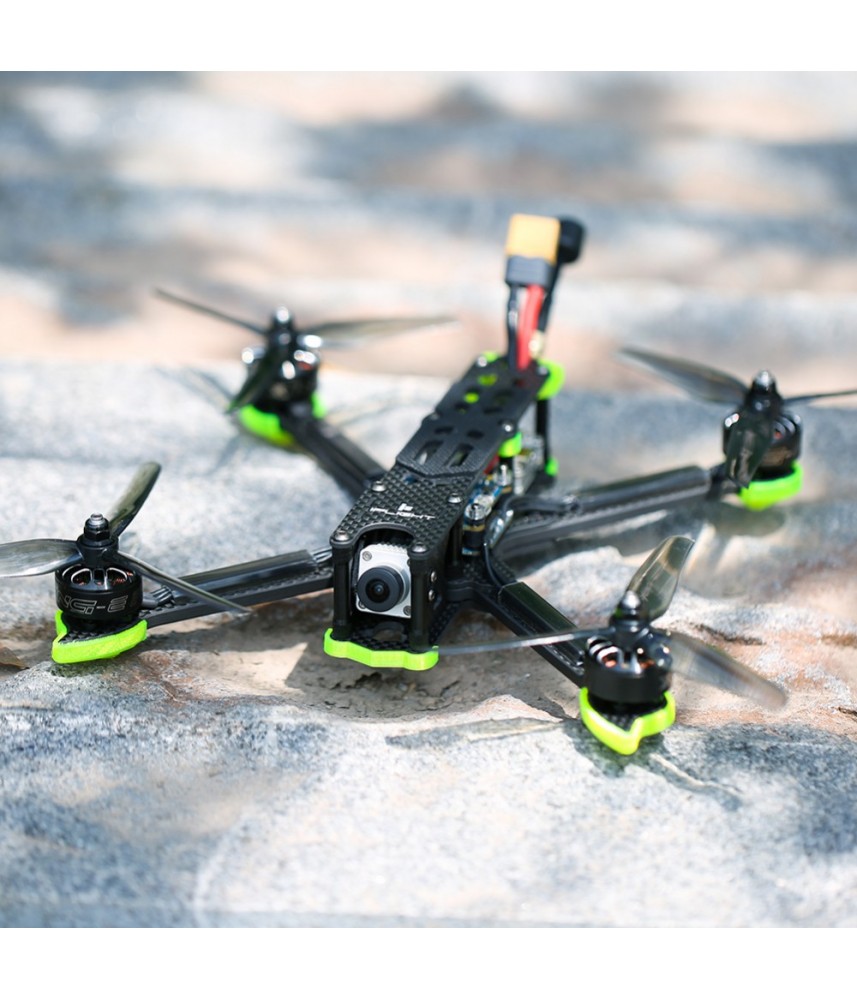  
iFlight Nazgul v2 Analog TBS Crossfire 6s
Dron iFlight Nazgul v2 w wersji Analog z odbiornikiem TBS Crossfire i silnikami przystosowanymi do baterii 6s.
Jeżeli potrzebujesz do drona wydruk 3D do montażu GoPro, to napisz do nas na kontakt@dronostrefa.pl Mamy drukarki 3D i możemy wydrukować taki uchwyt dodatkowo. 
Kamera na zdjęciach nie jest częścią zestawu
Dron Zawiera:
- Kamera RaceCam R1 Mini 1200TVL
- SucceX-E F7 V2.1 Flight Controller
- Silniki XING-E 2207 1800kV
- Odbiornik TBS Crossfire Nano
Poniżej specyfikacja ze strony producenta:
HIGHLIGHTS:
- 5mm arm design for more durability
- Easy-Swap arms
- LED illuminated Logo
- XING-E 2207 motors and NAZGUL 5140 props
- 5" version also fits 5.1" style propellers
- Popular True-X configuration
- TPU crash-guards
- Fits both 30.5x and 20x stacks
Nazgul5(XL5 V5) frame specs:
SucceX-E F7 45A flight stack

XING-E 2207 FPV Motor (6S 1800kv / 4S 2750kv)

Wheelbase:   240mm*240mm

Body size: 170*170mm

Propeller size: 5 inch /5.1 inch

FC pattern: 30.5*30.5/20*20 mm

FPV cam spacing: 19mm

Weight: 400.8g (without battery)
PRE-TUNED & PRE-SETUP:
- Don't worry about tuning, we did that for you already! A basic PID- and Filter tuning was applied for a great flight experience!
To restore lost tunes or updates, please check our linked article on "Firmware/Factory Dumps"
- Angle-Mode (self balancing level mode) is enabled by default to make sure your first flight doesn't end in a mess!
Please check our linked article on "How to disable Angle-Mode, activate Acro-Mode"
Nazgul5 HD Quad BNF Included Components and Parts
Prebuilt and tested Quadcopter

1x Nazgul5(XL5 V5) Frame

1x Caddx Polar Vista Digital HD System Kit

1x 

Albatross LHCP RP-SMA 

5.8g antenna

2sets x Nazgul 5 inch 3-blades (Set of 4 - Color may vary)

1x 20*200mm 

Microfiber PU Leather Battery Strap (Color May Vary)
1x 

20*250mm 

Microfiber PU Leather Battery Strap (Color May Vary)
FC // SucceX-E F7 Flight controller
- MCU: STM32F22RET6 216MHz
- Gyro: 20689
- Baro: DSP310 (Barometer can only be used with Betaflight 4.3.0 and above)
- OSD: IFLIGHT OSD (AT7456E)
- BEC: 5V 2.5A
- BlackBox: 16MB
- Uart: 4*UART(UART1、UART2、UART4、UART5)
- UART1 for VTX HD(for 4-6S Vista,for 4S DJI Air Unit)/AnalogTelemetry
- UART2 for Receiver
- UART4 for Free 
- UART5 for ESC Telemetry
- 4×Dshot/PWM outputs
- Smartaudio & IRC Tramp VTX protocol supported
- WS2812 led Strip: Yes
- Bepper: Yes
- Firmware: IFLIGHT_SUCCEX_E_F7
- Outer Size: 36*36mm / 30.5*30.5/φ4 mounting
- Weight: 6.9g
ESC // SucceX-E 45A 2-6S BLHeli_S 4-in-1 ESC
- Dimension: 40*43mm
- Mounting Holes: 30.5*30.5mm/Φ3mm
- Weight: 14.4g
- Supports 2-6S Lipo input
- STM32F051 MCU, 48Mhz Runs BLHELI 16.X Firmware
- Current sensor: YES
- BEC: NO
- Supports: DShot150/300/600/1200/MultiShot/OneShot etc.
- Target: G-H-30 BLS 16.7
Changelog:

June 2021: Upgraded SucceX-E F4 flight controller to SucceX-E F7
Additional Suggested Parts
DJI HD FPV Goggles

Radio Controller
Important

The DJI Remote Controller is recommended for beginners since you won't need to set up another receiver, but it is also optional in this BNF drone because it is NOT required in order to use the FPV system. If you don't choose to use the DJI Remote Controller, you can choose a receiver option for your transmitter. and then bind to your own radio as usual.
Our current frsky receivers default version in 2.XX, requires to use the same version of frsky transmitter. 

If you have none frsky transmitter,please downgrade the version lower than 2.X.X, www.frsky-rc.com for more details.